Welcome to our first newsletter. We want to kick things off by saying thank you for being part of the Arora Dental journey. As you already know, we really really really care about you feeling comfortable with us. So, this newsletter is a way for us to let you in behind the scenes and to share our stories with you.
Today's newsletter has 4 sections.
my personal story

giving back to our community

a healthy and refreshing summer recipe

funny videos from us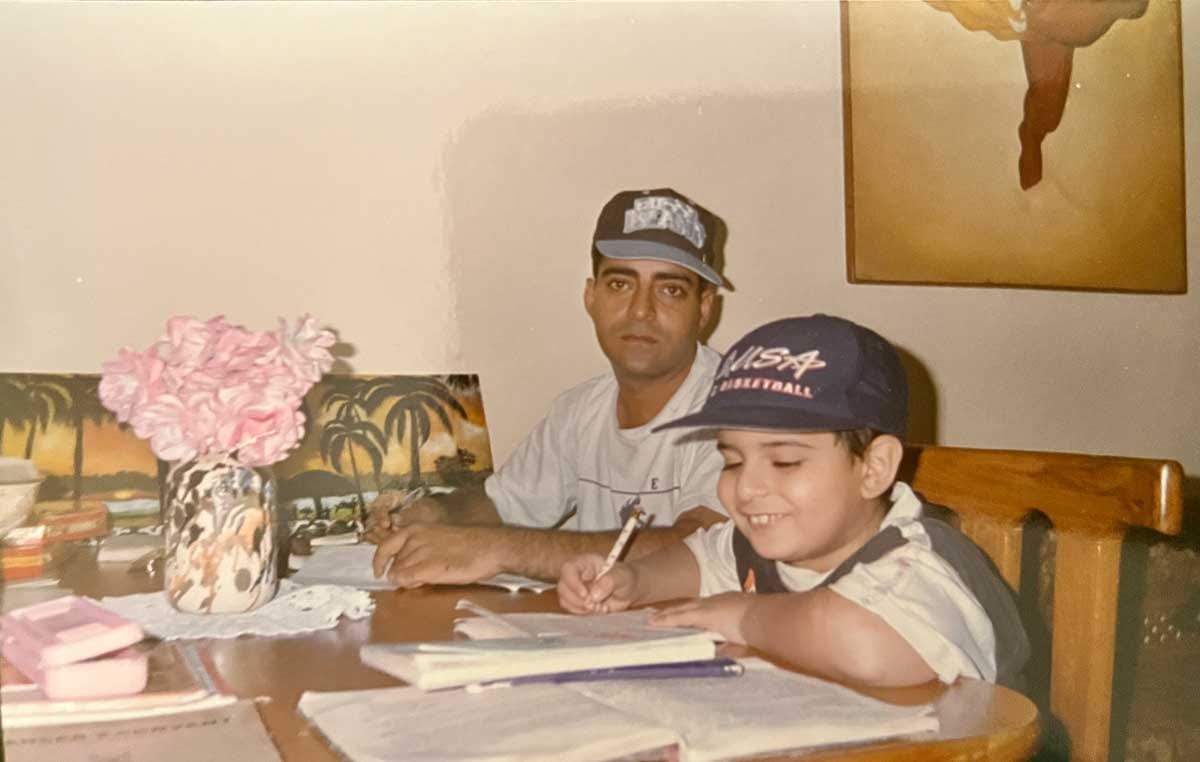 Me at the age of 7 getting some help on my homework from my dad.
"We are moving to Canada."
As I begin this new chapter of my life in Brantford with Arora Dental, I am reminded of the moment that totally changed my life.
It's a few weeks before my 9th birthday and I am in an after-school camp. My mom comes to pick me up and as I gather my things, she rushes me out of the building. I feel that something is up and I ask her if everything is okay. She says, "not now, wait until we are outside". So I quietly follow her and once we were all alone, she turns to me and whispers, "we are going to Canada".
I feel confused…She sounds excited by the idea of moving but I feel terrified.
You see I was born in New Delhi. It's one of the largest cities in India and a very busy place. Lots of people, traffic, bicycles, wandering cows and history. It's a place where neighbours stop by unannounced for tea, share gossip and babysit each others kids for free. The idea of moving to another place scares me…
For my parents Canada is a place where those willing to work hard can . They understand that relocating means restarting their life without any guarantee of success. So in December of 2001 our belongings are all packed into 8 suitcases and having sold our home, we flew from Delhi, India to Toronto, Canada.
…And then we jumped in a taxi to our first stop in Canada, Taco Bell. Open Late :) A week after landing, my parents registered me for school and I still remember the very unforgettable first day. My mother's biggest fear coming to Canada was always winter and how cold it seems in pictures. She worried that we would freeze to death if we weren't dressed properly. So the morning of our first day, I left the house wearing a layer of thermal warmers, underwear, sweater, pants, jacket and snow pants. Looking like the complete Michelin man, I took my first steps into my grade 5 classroom. 25 surprised eyes stared at me. This is the start of something new and exciting.
…I hope you enjoyed this little snippet from my past. Don't worry, the story continues in the next newsletter. In the meantime, I want to share with you some fun activities from around our office, a fresh summer recipe from Anne's desk, an interesting read
2) Giving Back To Our Community
Until September 2nd, All Kids Under 12 Get Dental Checkup & X-Rays For Free
Did You Know that 1 in 6 children miss school because of tooth pain. At Arora Dental, we are offering free x-rays and dental checkups for all kids under 12.
We are running this until Sept 2nd and you can book an appointment at this link: https://aroradental.com/back-to-school. Also, definitely share this with parents you know. Together, we can make sure no kids miss school because of tooth aches.
A post shared by Dr Saj Arora | Arora Dental | Brantford Dentist @arora.dental
3) Anne's Fresh & Healthy Recipes
Hi my name is Anne and I am the Administrative Assistant here at Arora Dental.
Eating healthy helps promote healthy teeth and gums. The difference between a healthy smile and regular trips to the dentist has a lot to do with your diet. Even with good oral hygiene like brushing your teeth twice a day and flossing once a day, It can still be hard to keep your teeth and gums healthy.
I will be sharing some wonderful healthy recipes with you and I hope you will enjoy them as much as I do. I love to entertain in my backyard and this salad/appetizer recipe is always a huge hit with everyone including the kids and it's so healthy (only a little sugar).
Mexican Caviar
Boil together:
1/3 cup olive oil

1/4 Cup Sugar

3/4 Cup Apple Cider Vinegar

1 tsp water, salt and pepper
Pour over cut up:
1 Chopped Green Onion

1 Cup Coloured Peppers

1 Cup Celery

1/4 Cup Sweet Corn

1 Can Lentils

1 Can Corn Niblets

1 Can Black Beans
Serve with Pitas or Corn chips.
4) Fun Times @ Arora Dental
We have new costumes and want to share our cool dance moves with you. Be sure to ask Anne, Rebecca and Janette to show you their moves in-person the next time you are in for a visit.
A post shared by Dr Saj Arora | Arora Dental | Brantford Dentist @arora.dental
On August 19th, we gave away over 100 Free Pancakes and Coffee to folks on their morning drive to work.
A post shared by Dr Saj Arora | Arora Dental | Brantford Dentist @arora.dental
The End
Thank you for reaching the end of the newsletter. I hope you enjoyed the read and again we want to say thank you for placing your confidence in us.